Founders Wishes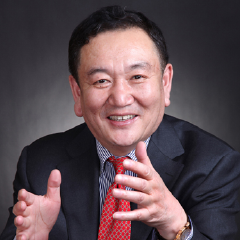 Bian Zhiliang
Bian Zhiliang, founder of Taishan Sports Industry Group Co , LTD , the CPPCC National Committee, Deputy Secretary General of the National Sports Goods Standardization Technology Committee, Vice Chairman of Chinese Sports Goods Industry Association, member of All-China Sports Foundation Public Welfare Alliance Executive Board, Vice President of China Stationery & Sporting Goods Association council, Founding Director of the Juan Antonio Samaranch Foundation
The founder's wishes
After 40 years of development and recruitment, Taishan people accomplished today's successful brand with hard work and determination. Taishan has served the major sporting events in the world,three World University Games, five Asian Games, and over one thousand World Championships and major foreign and domestic events. With "zero error, zero fault, zero complaint", Taishan has created countless production and development miracles. visited by Presidents and Secretary Generals of nearly 100 individual associations, Taishan is the only strategic partner of the two top sports organizations- SportsAccord and FISU. In the process of internationalization, Taishan has set agents in more than 200 countries and areas, and cooperated with markets and human resources in more than 40000 colleges and universities. Taishan has entered a new stage of comprehensive explosive development. The core driving force of the development of Taishan is innovation.
Taishan has six national scientific research platforms, such as the only "National Engineering Technology Research Center for Sports Goods", and the only "post-doctoral programme" in the industry. Taishan has two national science and technology support plans, three national torch plans, and a number of international leading scientific and technological achievements, filling the international blank. Taishan has nearly thousands of developers, and more than one thousand patents, and participated in making or revising more than 30 national and international standards. In the future, Taishan will always view scientific and technological innovation with great importance, optimize the industrial structure, perfect the industry chain, improve the quality of products, and promote higher standards, transforming Taishan from equipment supplier to a standardizing enterprise. After nearly 40 years' accumulation, Taishan has been in the top international level in scientific and technical innovation, market development, international cooperation, and brand promotion.
In the future, Taishan will enter the capital market, combine with giants, further strengthen the talent team construction, actively carry out acquisition and reorganization, and use global talent, market, science and technology resources, to promote the development of enterprises. During 13th Five Year plan, Taishan will implement the development goals of two one hundred billion yuan (sales income surpass one hundred billion yuan, while the brand value exceeds one hundred billion yuan).
We will incorporate national fitness in our national strategy. The state council put forth that by 2025, the national sports industry will exceed a total of 5 trillion yuan. Persisting in the development concept of "
leading product
shared by the whole people", Taishan strengthens the research, development and promotion of national fitness products, and introduces the intelligent physical tests, intelligent playground and large databases, creating the precedent of smart fitness.
The 2022 winter Olympics will be held in China, which is of great significance to promote the dissemination of the Olympic spirit in China. As the gold brand in Chinese sports industry, Taishan is actively researching and developing ice and snow sports equipment, and will provide the safest, the most environmental protection, and the highest-quality scientific fitness equipment and services for more than 300 million people.